Home / Products / Counter Terrorism/ EOD/IEDD Module & Truck/Gas Sampler
EOD - Explosive Ordinance Disposal
IEDD Module and Truck
Truck mounted module for Explosive Ordinance Disposal (EOD).
Disposal and Improvised Explosive Device Disposal (IEDD).
Ballistic protection: sheet / plate / polycore / sheet, Armoury - High Tensile Steel + lockable.
Retractable ramps for robot deployment and re-entry.
Bomb suit door access – internal and external C/W adjustable shelving and roller shutters.
Electrics: 7Kva 240V generator, back-up batteries, air conditioned, LED lighting.
Computers, X-Ray equipment and work stations fitted, C/W retractable awning.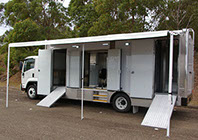 METCV – Trailer
Mobile Explosive Total Containment Vessel.
Designed for safe containment and removal of explosive and hazardous substances.
Rated explosion capacity: 5kg TNT.
Gas tight for repetitive detonations.
C/W: radio remote control – robot buttons.
Manufactured IAW 042324 and dynamically tested.
Designed for: CBRNE, EOD, SWAT and law enforcement agencies.
Gas Sampling Unit
Defence, law enforcement, airport security, R&D.
Used on bomb disposal chambers.
Dyna Safe gas tight chambers (5kg or 8kg TNT)
Designed to take air samples out of a closed gas tight chamber.
Detects toxic gas leakage from container.
Passive or active detection equipment can be connected.
Air sampling bags can be connected for post examination in laboratory.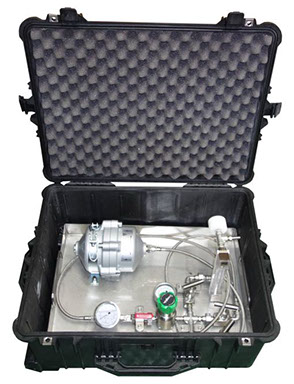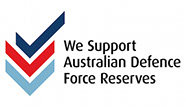 If you would like more details on a particular product or service please fill out and submit the form below and one of our team will contact you with more information.
All Rights Reserved © 2015 | Bale Defence Industries Pty. Ltd.