Home / Products / Shipboard Equipment / Supply/ Bi Metallic Transition Joint
Bi Metallic Transition Joints - Navy
Form: Strip, flanges, plate, fittings and washers.
Both metals diffused together to form an inseparable bond.
Types: Aluminium/Steel – Aluminum/CuNi – Steel/SS, SS/CuNi, Steel/CuNi.
Mitigates corrosion problems on board.
Eliminates mechanical joints eliminating crevice corrosion.
Manufactured IAW MIL-J-24445A.
Uses: Steel deck to aluminium superstructure/ tie downs / thermostats / pressure vessels.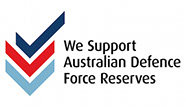 If you would like more details on a particular product or service please fill out and submit the form below and one of our team will contact you with more information.
All Rights Reserved © 2015 | Bale Defence Industries Pty. Ltd.